YOKOGAWA OTDR AQ1000 1310/1550nm 32/30dB sm otdr

This Yogoga AQ1000 otdr is specifically designed to increase the productivity of field personnel working on the installation and deployment of optical access networks such as Fiber To The Home (FTTH). Although it is positioned as an entry-level model, it still retains Yokogawa's established standards of quality/reliability and features characteristics which are usually present in higher-level models, such as a high-quality capacitive multi-touch touchscreen and wireless connectivity.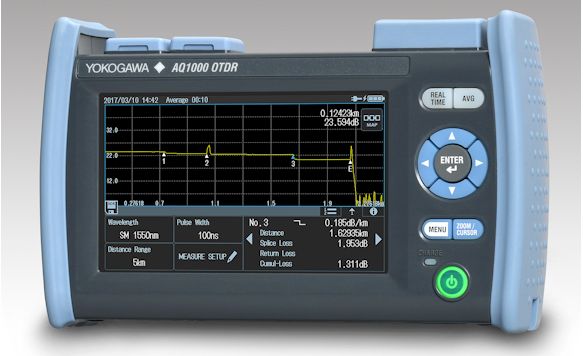 General Parameters

Testing Wavelength

1310/1550nm

Dynamic Range

30/32dB

Event Dead Zone

0.8m

Attenuation Dead Zone

4m

Pulse Width

3ns~20μs

Testing Range

Dead zone, 500m, 2km, 5km, 10km, 40km, 80km, 120km, 160km, 240km

Sampling Resolution

≤ 0.05dB/dB

Linearity

≤ 0.05dB/dB

Display Resolution

0.01dB

Loss Threshold Step

0.01dB

Loss Resolution

0.001dB

Distance Resolution

0.01m

Sampling Point

Maximum 128,000 points

Distance Accuracy

± (1m+measuring distance×3×10-5+sampling resolution)

Data Storage

40000 groups of curve

Internal Parameter

Laser Launcher Type

LD/TT/WU

Output Power

10mW

Distance Range

About 12km

Optical Connector

FC/UPC OR SC/UPC

Output Wavelength

650nm ± 10nm

Modulation Frequency

CW / 2Hz

Physical Parameters

Interface

Internet port, 3 USB port

Display

7 inch TFT-LCD Touch Screen

Battery

7.4V/4.4Ah lithium battery, continuous 5.5 hours

Working Temp

-10°C~+50°C

Storage Temp

-20°C~+75°C

Dimension

253×168×73.5mm / 1.5kg


The AQ1000 satisfies test and measurement needs in analyzing access optical networks.
Wavelengths: 1310 / 1550 nm
Dynamic ranges: 32 / 30 dB
Size: 185 mm (W) × 116 mm (H) × 56 mm (D) ( 7.3" (W) × 4.6" (H) × 2.2" (D) )
Weight: 660 g ( 1.46 Lbs )

Built-in PC and LS, and VLS
Power checker (PC)
Measures and displays optical power of incominglight for testing network performance.
Light source (LS)
Outputs a stable, continuouswave/modulated light for measuring end-to-end attenuationaccurately when paired with an optical power sensor.
Visible light source (VLS)
Outputs red light for checking continuity of launch numbers or short number trunks. Breaks and bending in number can be identified visually.
(/VLS option is required.)
Data handling features
Direct data saving
Simply pressing "Direct save" icon, measured data can be saved in SOR or PDF format according to users' prior selection.
PDF reporting
Built-in post-processing software for generating OTDR reports in PDF format. Flexible configuration of report template to meet users' report requirements.
Data Transfer
Data files or PDF report files that are stored in the AQ1000 can easily be transferred to a PC through a USB connection
NOTICE:
Import Customs Tax etc destination fee: Should be paid by the buyer.