TEKCN TC-110 Handheld 1310/1550nm 30/28dB
High Precision SM OTDR
Product Description
TC-110 handheld OTDR is a high precision instrument for measuring optical fiber.
The product appearance is ergonomically designed. It's with 1310/1550nm wavelength and 30/28dB dynamic range, it's with high precision and long measurament distance.
 Features
• Compact, lightweight, Portable 3.5inch LCD touch screen  
• Dynamic range up to 30dB in single mode  
• Testing distance up to 100 km at 1550nm
• Event editing function  
• TF&SD data interface, USD data output
• 8 hours battery life with full charged
• VFL function
Technical Specifications:

Type

Index

Dynamic Range

30/28 dB

Wavelength ( ± 20 nm)

1310/1550

Optical interface

FC/UPC or SC/UPC

Display screen

3.5-inch TFT LCD touch screen

Pulse width

5, 10, 20, 40, 80, 160, 320, 640, 1280, 2560, 5120, 10240, 20480, and Auto

Distance range (km)

0.3, 1, 3, 5, 10, 30, 60, and 120

Measurement time

15s, 30s, 1 min, 2 min, and 3 min

Event dead zone

1.2 m

Attenuation dead zone

8 m

Data storage capacity

SD card (4 GB) > 10000 test curves

Data interface

SD card interface

Communication interface

 Communication interface
Visible light

Wavelength

650 nm

Output power (dBm)

N -3

Test distance (km)

3

Communication ight detection

Available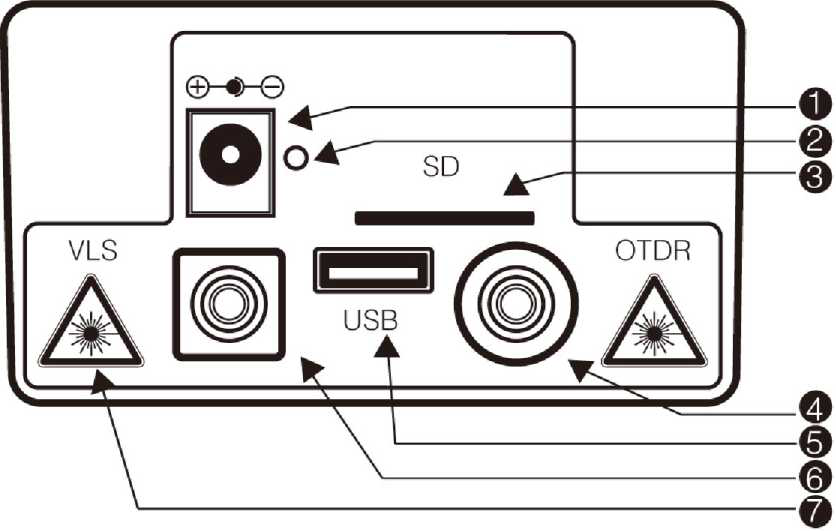 ❶ Power adapter interface
❷ Charging indicator
❸ SD card interface
❹ Optical interface OTDR
❺ USB interface
❻ Optical interface VLS Q Warning symbol
Application:
The OTDR Is widely used for installation, troubleshooting, reconstruction, and maintenance of the optical cables and fibers used in various communication systems such as metropolitan area network (MAN), wide area network (WAN), and CATV.