MPO/MTP Connector Pen Cleaner One-Click Fiber Optic Adapter Cleaing Tool/One-Push Fiber Optic Cleaning Pen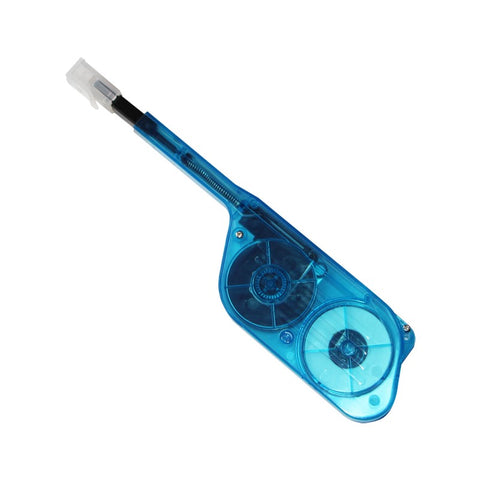 Many troubles in optical communications equipment are caused by contamination on the optical connector end face.
CLEP-MPO, the MPO/MTP connector cleaner, employs microfibers designed specifically for optical connectors to remove even the smallest contamination not visible to the naked eye. Please take advantage of the improvements you will receive in optical construction working efficiency and in communication services reliability.
Features:
600+ cleanings per unit
Easy pushing motion engages connector and initiates cleaner

Alignment cap lid opens for cleaning the unmated cable assemblies

Cleans multimode (flat) and singlemode (8˚ angled) MT ferrules

Cleans MTP and generic MPO connectors

Cleans male (with guide pins) and female MT ferrules

Ordering:
| | |
| --- | --- |
|  Product Name | CLEP-MPO Cleaner |
| Compatible Connectors | MPO Connector, MTP Connector |
| Compatible End Face | Flat and 8 degree slant (compatible with or without guide pins) |
| Dize(nm) | Main Body: 197L×15W×51H |
| | With Cap Attached: 208L×17W×51H |
| Standard Usages | Over 600 times |
--------------------------------------------------------------------------------------------------
We keep lots in stock, If you need more, please contact us directly! 
Condition:  - Brand New .
Warranty Service :   - 12 months .
Package includes:  - standard package with accessories,  in carton. 
Shipping:We are shipping the goods to every country of the world!
Usually the goods will be sent within 5 working days after payment, the shipping time depends on your country of residence, depending on your country's customs!
if out of delivery times, have not received merchandise, please contact us and we will solve the problem the first time! 
Payment method:   Paypal, Wire transfer,  EscrowBuyer is under obligation if (in case) the item is liable to your country's customs duties. 
We are not responsible for your country's any taxe or customs fee. 
Our prices do NOT include any customs duty or tax. 
All returns must be informed before returning. 
When you receive it, we sincerely hope that you will like it and appreciate our 
customer services. 
If you are pleased with your purchase, please leave us positive feedback once receiving the item, and we will return the feedback upon you.
If you have any problem with the outcome of the transaction or product, please don't respond with negative feedback before contacting us.So we can know what we should do to help you. 
In the meantime, we will get to know where we should improve. we will do our best to resolve your case asap.
Contact us for details before you bid, in case any misunderstanding,