The CT50 cleaver offers enhanced drop impact resistance compared to other existing cleavers and allows workers to replace the cleaving blade, providing customers with a drastic reduction in handling time and maintenance costs. The fUJIKURA CT50 changes the position of the cleaving blade automatically and in accordance with the condition of the cleaving state of optical fibers on a fusion splicer through wireless communication. In addition,the CT50 can complete cleaving works including scrap collection, with a single-step. 
Features


*Applicable for up to 12-fiber cleaving
*Automatic cleaving blade rotation via wireless communication
*User replaceable fiber clamps and cleaving blade
*Blade life up to 60,000 cleaves
*Wide lever opening angle allows easy fiber placement
*Single-action operation including fiber scrap collection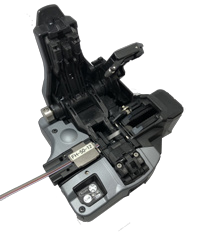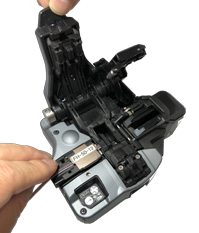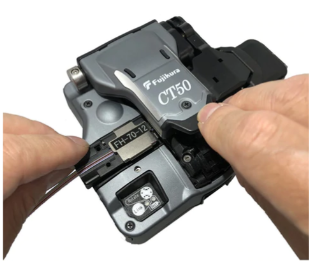 Specifications
Description

Applicable Fiber

Silica optical fiber

Fiber Count

Up to 12 

Coating Diameter

160 to 900μm 2 to 3mm cord and drop cable

Cladding Diameter

125µm

Cleave Length

5-20mm with AD-10-M24

10mm using fiber holders

Cleave Angle Capability

Typical 0.5 degrees

Blade life

Typical 60,000 fibers 

Wireless connectivity

Wireless technical standard:Bluetooth®4.1 LE*2 OS : Andoroid 5.0 or above, iOS 8.0 or above (iPhone6 above)

Dimensions 

120(W) x 95(D) x 58(H)mm

Power supply

AAA (LR03) dry battery: 2pc

Weight

300g 

Operation condition

0 to 95% RH and 0 to 40°C (non-dew)

Storage condition

0 to 95% RH and -40 to 80°C (non-dew)

Resistance features*3

 

Shock: 76cm (30inch) all directions dropShock: 76cm (30inch) all directions drop

  Dust resistance: Exposure to dust (0.1 to 500μm dia.    Alumina Silicate)

  Rain resistance: H=10mm/hr for 10min
Standard Package
2x Fiber Plate, Spacer, Carrying case, Hexagonal wrench, Instruction manual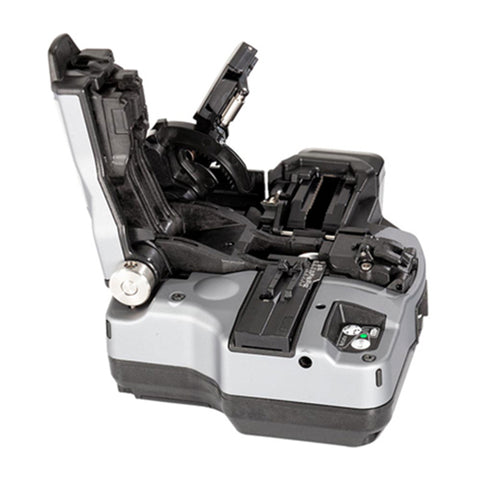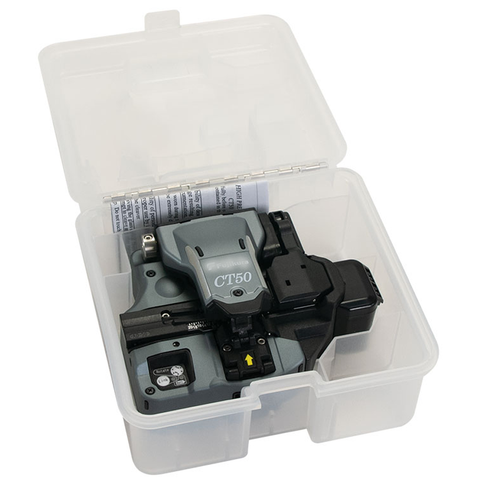 --------------------------------------------------------------------------------------------------
We keep lots in stock, If you need more, please contact us directly! 
Condition:  - Brand New .
Warranty Service :   - 12 months .
Package includes:  - standard package with accessories,  in carton. 
Shipping:We are shipping the goods to every country of the world!
Usually the goods will be sent within 5 working days after payment, the shipping time depends on your country of residence, depending on your country's customs!
if out of delivery times, have not received merchandise, please contact us and we will solve the problem the first time! 
Payment method:   Paypal, Wire transfer,  EscrowBuyer is under obligation if (in case) the item is liable to your country's customs duties. 
We are not responsible for your country's any taxe or customs fee. 
Our prices do NOT include any customs duty or tax. 
All returns must be informed before returning. 
When you receive it, we sincerely hope that you will like it and appreciate our 
customer services. 
If you are pleased with your purchase, please leave us positive feedback once receiving the item, and we will return the feedback upon you.
If you have any problem with the outcome of the transaction or product, please don't respond with negative feedback before contacting us.So we can know what we should do to help you. 
In the meantime, we will get to know where we should improve. we will do our best to resolve your case asap.
Contact us for details before you bid, in case any misunderstanding,  
Original Fujikura CT50 cleaver Fiber Optic Cleaver High Precision Bluetooth Single Fiber Cleaver
It works great
Came in about a week earlier than expected and they were very good with the email communication. It was half the price you would pay states side so it is definitely worth it.
All right. Fast shipping and good contact with the seller
All right. Fast shipping and good contact with the seller
Great tool awesome excellent seller
Great tool awesome excellent seller