Fiber Inspection Probe with Display Cleaning Kits TC-400 Fiber Optic Cleaner Pen Connector Cleaning Cassette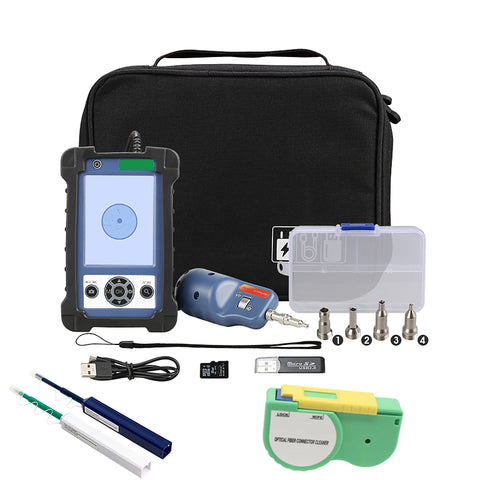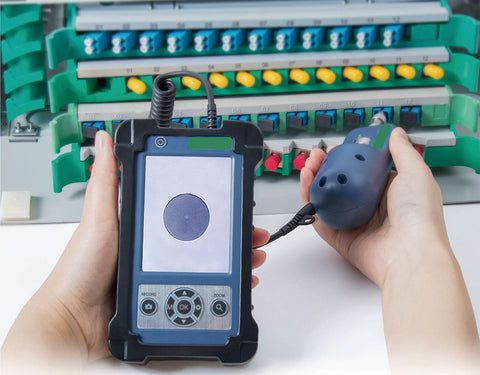 Reliability and performance of a fiber optic link largely depends on the quality of interconnects. Contaminated connectors can cause the mating surfaces to separate leading to high insertion loss and back-reflection.
The Fiber Optic Connector Inspection is an intelligent handheld video microscope suitable for inspection of patch cords, bulkhead receptacles and a variety of connectors found in fiber optic communication systems.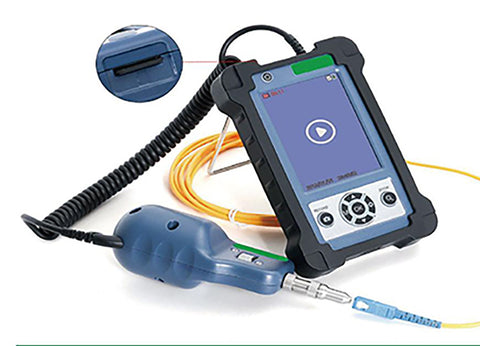 Description

3.5-inch TFT color display
Well-centered, high resolution image

Image capture and storage
Instant video recording
250x Magnification
4x Digital zoom
Standard tips (SC, FC, ST, LC, MU, E2000)
USB plug-and-play
Mainframe

Display

3.5" TFT-LCD, 320 x 240 pixels

Dimensions

170mm x 100mm x 40mm

Weigh(including battery)

200g

Power Supply

Replaceable battery or universal input 5V DC adapter

Battery

Rechargeable Li-Ion, 3.7V / 1450mAh

Battery life

> 3 hours (continuous)

Charger/AC adapter

US, EU, UK and Australian versions available

Image / Video Storage

8GB SD card

Operating Temperature

-20°C to 50°C

Storage Temperature

-30°C to 70°C

Inspection Probe

Magnification

400X (9" monitor); 250x (3.5"monitor)

Detection Limit

0.5μm

Focus Control

Manual , in-probe

Principle

Bright field reflected light microscopy

Dimensions

180mm x 40mm x 30mm

Weight

200g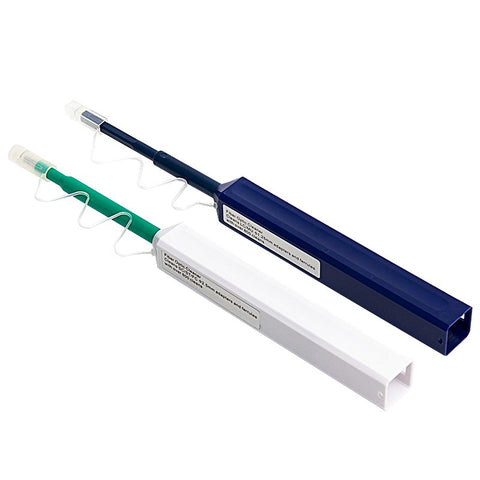 Features:
Disposable with 800+ cleanings per unit
Easy pushing motion engages connector and initiates cleaner
Made from antistatic resins
Cleaning micro fibers are densely stranded and debris free
Extendable tip reaches recessed connectors
Fiber Optic Cleaner Cassette
| | |
| --- | --- |
| Product Name | Cleaner Cassette |
| Connector | SC,FC,ST,MU,LC,MPO,MT,MTRJ |
| Cleaning time | 500 times |
| Size(mm) | W 115 × H 79 × D 32 |
| Replacement Reel | ATC-NE-NS   10 reels/set |
Standard Accessories:
Inspection Probe x 1
Mainframe x 1
AC power adapter/battery charger x 1
Rechargeable battery pack x 1
2.5mm tip for PC male connectors x 1
1.25mm tip for PC male connectors x 1
Tip for SC / FC PC female connectors x 1
Tip for LC PC female connectors x 1
Tip box x 1
User Manual x 1
Carrying Bag x 1