500m SC UPC to SC UPC Single Mode Fiber Optic OTDR
Launch Cable Box
Optic fiber jump cable,OTDR Dead Zone Eliminator,Fiber Optic OTDR Launch cable box,fiber rings FC/SC/ST/LC(UPC/APC)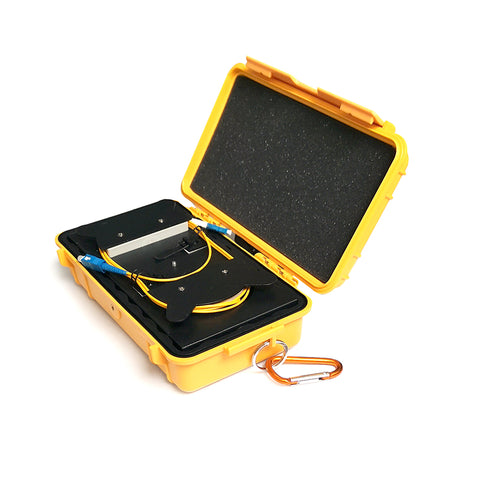 An OTDR launch cable, which connects the OTDR to the link-under-test, discloses the insertion loss and reflectance of the near-end connection. It is often available on a small spool or within a "launch box", which is used to create the proper conditions for testing another similar optical fiber for faults. This method avoids undesirable variations in loss and distance measurements. A launch fiber will help to overcome the blind spot or Dead Zone of an OTDR brought about by high launch power or faults near the launch end of the fiber.
Features
Supply by: TEKCN

Ruggedized Case

G652D, G657A, OM1, OM2, OM3, OM4
Case can house up to 2,000 meters of fiber

Optional for with SC,LC,FC,ST,MU connector

Robust carabiner clip

Built-in cable management

Auto-purge valve

Compound latch with locking feature

Water and dust proof allowing the unit to be taken into almost any environment.
Complied with or exceeds Standard
ITU-T G652.D, G656.A
ITU-T G651.1 OM1 OM2 OM3 OM4
IEC60793-2-10  type A1a.1/A1b OM1/OM2, type A1a.2 OM3, type A1a.3 OM4
RoHS Compliant Directive 2011/65/EU
Fiber & Connector Characteristics

Fiber Types

G657

Fiber Length (m)

100 up to 2000 (max)

Lead Length

2 Meters, 3mm buffer

Typical Loss

<0.5dB @ 1310 for 1000 meters

Connector Type

SC/LC/FC/ST

Polish

PC, UPC, APC

Return Loss*

UPC>=50dB, APC>=60dB, PC>=35dB

Repeatability (dB)

<=0.2 (1000 times)

Exchangeability (dB)

<=0.2
Mechanical & Environmental Characteristics

Dimension

23.8CMx 14.1CM x 6.7CM

Material

SR Polypropylene

Color

Yellow

Weight

0.75kg without fiber

Packaging

Rugged, hard-shell transit case

Storage Temperature

-40℃to +85℃

Operating Temperature

-40℃ to +85℃

Humidity

0 to 95%, non-condensing
Applications
Widely used with OTDR to help minimize measurement uncertainty indoor or outdoor
se as OTDR launch/receive cable
Test link loss with an OTDR
Measure insertion loss and reflectance of near/far end connector.
Pulse suppressor for the first reflection at the beginning of a fiber.