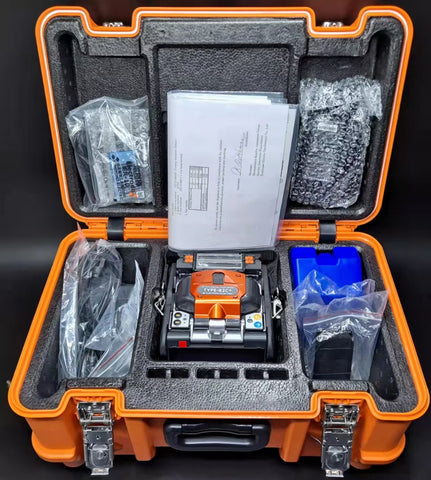 Sumitomo Type-82C+ is a direct core monitoring fusion splicer for ultra fast splicing in every environment.
FEATURES
Ultra fast splicing: 5 sec.
Ultra fast heating: 9 sec.
Automatic fiber identification (SMF, MMF, DSF, NZDSF, BIF, other).
Automatic arc calibration.
G.657 fiber auto-splice function.
Supports bi-directional splicing operation.
Dust-resistant, water-resistant and shock-proof.
Compact & lightweight (only 1.9 kg).
Touch-screen operation.
Upgrades software via internet.
Remote interactive maintenance via internet.
Equipped with onboard user training video.
Compact, Lightweight & Faster
2.2kg with battery for 300 splice & heat cycles
Faster 5s splice in SM Quick Mode
Reduced 9s heat shrink time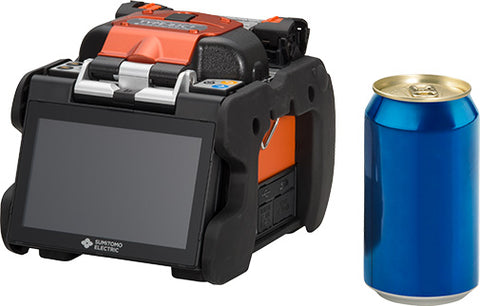 Brand-new touch panel and UI
Wide and high resolution touch panel -5" touch screen color LCD display
Smartphone-like easy operation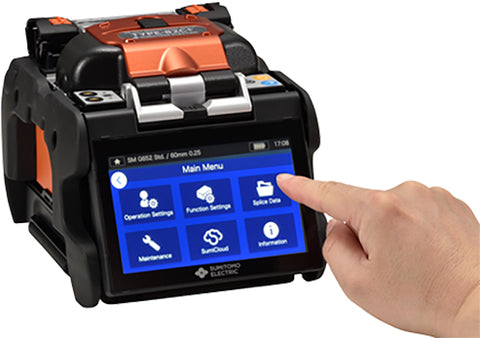 Video Tutorial
Video tutorial to help splicing job
SumiCloud™ App. to watch tutorial video on smartphone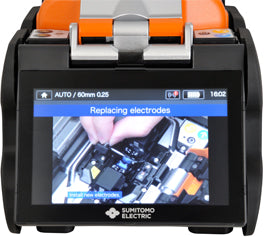 High Environmental Durability
IPx2 water resistance
IP5x dust resistance
Splice at 50°C
Work at 6000m
76cm drop on 5 faces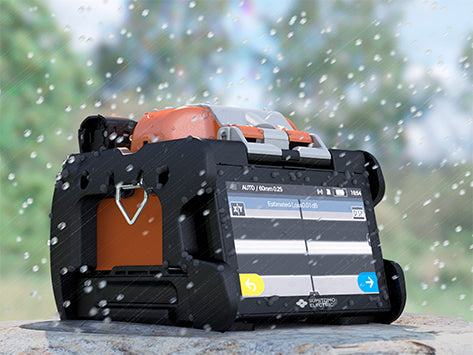 Dual ovens with flexible clamps
Independent
Fast-heating 9s
Productive
Programmable
User selectable clamp operation
Wireless LAN
connectivity to
SumiCloud™
The world-first fusion splicer with Wireless LAN Connectivity
SumiCloud™ smartphone App. to support splicing job
WLSD card brings SumiCloud™ services to your splicer via our smartphone App.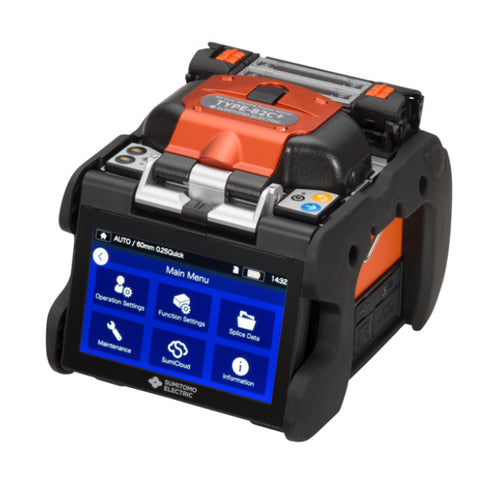 TECHNICAL SPECIFICATIONS
Optical fiber requirements
Material

Silica glass
Profile types
SMF (G.652), MMF (G.651), DSF (G.653), NZDSF (G.655), BIF (G.657), EDF
Fiber diameter
Cladding diameter: 80 µm ~ 150 µm, Coating diameter: 100 µm ~ 1,000 µm
Applicable fiber or cable size
up to φ1,000 µm
Drop cable (2.0x3.1 mm), Indoor cable (2.0x2.0 mm)
Cleave length
5~16 mm
10 mm
Standard performance
Splice loss (typical)
SMF: 0.01 dB, MMF: 0.01 dB, DSF: 0.034 dB, NZDSF: 0.03 dB
Splicing cycle time (typical)
5 sec. (Quick mode), 7 sec. (SMF standard mode), 7 sec. (Auto mode)
Heating cycle time (typical)
9 sec.
Splice & Heat cycles
Approx. 300
Fiber view & magnification
Two CMOS cameras observation, 380X (zoom: 760X) for X or Y single axis view, 270X for both X & Y dual axis view
Splicing programs
Max. 300
Heating programs
Max. 100
Functions
Loss estimation
Provided
Splice image capture / Splice data storage
200 images / 10,000 splice data
Proof test
1.96N (200 gf)
Universal clamps for 250µm, 900µm tight & loose buffer fiber
Provided
Reversible coating clamps
Provided
Dual automatic independent heaters
Provided (US patent 7,412,146)
User-selectable heater clamp operation
Provided
Onboard user training video
Provided
Automatic arc calibration
Automatically compensates for environmental condition changes
Arc test
Provided
Display of remaining Splice & Heat cycles
Provided (Battery mode)
Remote interactive maintenance
Provided
Terminals
DC output
DC12 V (for JR-6)
USB port
USB 2.0 (mini-B type)
Storage media
SD / SDHC memory card
Power supply
AC input
100 ~ 240V, 50 / 60 Hz (ADC-1430)
DC input
10 ~15 V
Battery module
Li-ion 10.8 V, 6,400 mAh (BU-16)
Mechanical Parameters
Monitor

5.0" touch screen color LCD display
Size

128(W) x 154(D) x 130(H) mm (without anti-shock rubber)
Weight

1.9 kg (without battery), 2.2 kg (with battery)
Electrode life
3,000 arc discharges
Environment
Operating conditions
Altitude 0~6,000 m, Temperature -10~+50°C, Humidity 0~95% (non-condensing), Wind velocity up to 15 m/s
Storage conditions
Temperature -40~+80°C, Humidity 0~95% (non-condensing), Battery -20~+30°C (long term)
Dust resistance
Equivalent to IP5x (Operates normally after 8 hours in a dust chamber (containing dust of particle size 25 µm or below
Water resistance
Equivalent to IPx2 (Operates normally after being exposed to water dripping at 3mm/min. for at least 2.5 min on each of 4 surfaces tilted at 15°)
Shock resistance
Drop from 76cm on 5 faces (excluding top face)