Core Alignment Fujikura Fusion Splicer 90S+ Kit,upgrade from Fujikura 90s ,free shipping by DHL / Fedex
The Fujikura  90S+ fusion splicer is a core alignment fusion splicer, setting a new standard in the market for fusion splicing. The FUJIKURA 90S+ is packed with a whole host of new and enhanced features, specifically developed to enable faster splice cycle times with higher precision.
Features:
Cleaver tracking and upkeep with wireless communication
Improved real-time arc control for fibers with poor cleave angles
Loose and tight buffer with same sheath clamp
Automated wind protector, sheath clamps and splice operation
Graphical User Interface with 5.0" Touchscreen
PC software and 90S manual downloaded from splicer
Multi-function transit case with integrated workstation
Lithium-ion battery with 300 splices/shrinks per charge
Applications:
Distribution fiber repair
Long-haul network installation
Field termination with splice-on connectors
Access network installation
Fanout kits, pigtails and splice cassettes
OSP cable installation and repair
Optical modules – splitters, couplers, MUXs, EDFAs and attenuators
1. Active Fusion control by cleave condition
One of main causes of high splice loss is bad cleave end face. The 90S+ fusion splicer analyzes the condition of both L and R cleave end faces and performs optimal fusion control. This new technology improves splice loss significantly and reduces the risk of re-installation.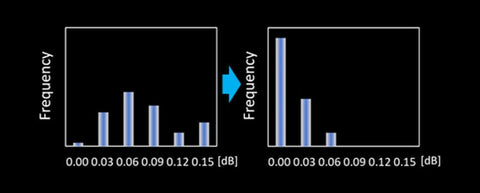 Splice loss with large cleave angle : 3 <θ< 5 degree
*G.652 splicing result measured with a cut-back method. The splicing result changes depending on the fiber type and fiber characteristics.
2. Active Fusion control by fiber brightness

Fusion is easily affected by changes in the environment.
The 90S+ fusion splicer uses real-time fusion parameter control by analyzing the fiber's brightness intensity during fusion. It contributes to stable, reduced splice loss.

3. Active Fusion control by fiber discrimination
Adequate splice parameters may differ depending on fiber type. The 90S+ fusion splicer automatically applies the optimum splice parameters depending on the fiber type
4.
1. Automatic Open-Close Wind protectors
The faster automated features of the 90S+ fusion splicer reduce installation times. With this splicer, an operator can complete the entire splice process from splicing to heating without touching the 90S+ and only moving the fiber.
Automatic Open-Close wind protectors
2. Operation time reduction
The shape of the sheath clamp is optimized for 60mm length protection sleeves. The length from splice point to the edge of the sheath clamp is 30mm. Therefore, it is easy to center the protection sleeve over the splice by using your fingers to reference the splice point.
Automatic heater clamp
The fiber retention clamps support the automated operations. When the sheath clamps open automatically after splicing, the fiber retention clamps gently hold the spliced fiber to keep it from flying out. The retention clamps release when the fiber is lifted by the operator.
4. Operation time reduction
These functions enable the 90S+ fusion splicer to reduce operation time by 50% over the previous model.
User Friendly
There are multiple ways to utilize the 90S+ fusion splicer carrying case. The 90S+ fusion splicer is ready to use just by opening the case, but it is also possible to use the 90S+ fusion splicer on top of the carrying case or only with the work tray depending on the work environment.
The work tray has many functions. There are two drawers for storage, and the drawers are large enough to store tools or battery packs. Also, the work tray can be divided in two, so it is configurable to fit your work space.
3. Loose Tube Compatibility
The sheath clamp of the 90S+ fusion splicer is compatible with loose tube fiber. The Protrusion part on of the sheath clamp for loose tube fiber engages or retracts by simply changing the switch position with your finger.
4. Tool-less Electrodes and illumination
The 90S+ fusion splicer electrodes come as an "assy" including the fixing screw. You can rotate the screw by hand without tools, enabling easy electrode replacement.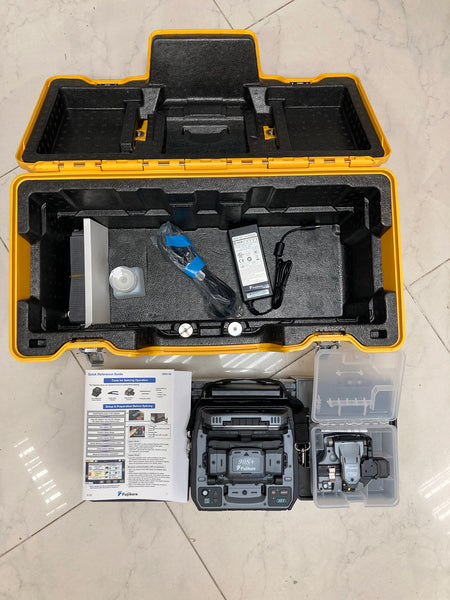 Ordering Information
90S+ Fusion Splicer Kit (with cleaver) kit
Includes:
CT50 Cleaver
ADC-20 AC Adapter
ACC-14 AC Cord
BTR-15 Battery
ELCT2-16B Spare Electrodes (pair)
Sheath Clamps
SP-03 Fiber Holder Set Plates
USB-01 Cable, Alcohol Dispenser
Screwdriver, Splicer Carrying Strap
Quick Reference Guide
TS-03 Tripod Screw
Work Tray J-Plate
SS03 single fiber stripper
CC39 Transit Case with Carrying Strap
One Year Warranty
I was very please with my purchase
TEKCN Fusion Splicer Store did exactly what I expected and I will continue purchasing from them.