Fusion Splicer original Fujikura 88S+ fusion splicerwith CT50 Cleaver Japan Optical Fiber splicing machine FSM-88S Fiber Optic Splicing Welding Machine
Features:
Splicing time: 7-9 sec (SM FAST mode).
Heat time: 13-15 sec (for 60 mm sleeves).
Core alignment technology.
Advanced image processing technology.
Fiber discrimination function.
The faster automated features.
Time for opening wind protector is 80% lower comparing to the Fujikura 80S.
Time for placing fiber into heater is 50% lower comparing to the Fujikura 80S.
Easy fiber protection sleeve positioning.
The lid of the carrying case may be used as a work table.
Plenty of space in the carrying case. There are two drawers for storage, and the work tray can be divided into two separate places.
The sheath clamp is compatible with loose tube fiber.
Wireless data connectivity allows automatic cleaver blade rotation when the splicer judges the blade is worn.
The tool can connect two cleavers simultaneously.
Blade life management: the device displays the remaining blade life, informs about blade height and position change, and when new blade is required.
Operation manual is installed into the splicer.
Battery life increased up to 500 recharge cycles.
Increased electrode lifetime – up to 5000 splicing cycles with one set.
5-inch color TFT touch screen display.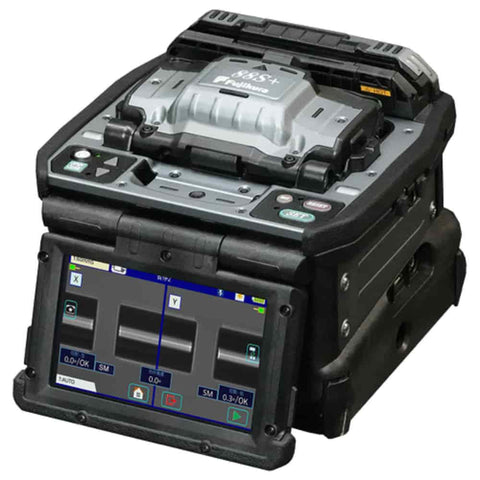 SPECIFICATIONS:
Fiber alignment method

Active core alignment

Fiber count

Single fiber

Fiber type

Single mode, Multi mode

Cladding dia.

80 to 150μm

Sheath clamp

Coating dia. : Max. 3,000μm

Cleave length : 5 to 16mm

Splice loss

G.652: 0.02dB, G.651: 0.01dB, G.653: 0.04dB, G.655: 0.04dB, G.657: 0.02dB

Splice time

SM FAST mode: 7 to 9sec.

AUTO mode: 14 to 16sec.

Protection sleeve

Length: 66mm; dia.: Max. 6.0mm before shrinking

Heat time

60mm slim mode : 9 to 10sec.

60mm mode : 13 to 15sec.

Fiber tensile test force

Approx. 2.0N

Electrode life

5,000 splices

Dimensions

170W x 173D x 150H (mm)

Weight

2.8kg including battery

Environmental condition

Operate: temperature : -40 to 80 degree; Humidity: 0 to 95% non-condensing;

Storage: temperature : -10 to 50 degree; Humidity: 0 to 95% non-condensing;

Altitude: Max. 5,000m

AC adaptor Input

AC100 to 240V, 50/60Hz, Max. 1.5A

Battery

Rechargeable Lithium Ion

Output Approx. DC14.4V / 6,380mAh Capacity  300 splice and heat cycles

Temperature Recharge : 0 to 30 degree,

Storage : -20 to 30 degree

LCD monitor   

TFT 5 inches with touch screen

Magnification

200 to 320x Illumination

Illumination

LED lamp

Interface

PC: USB 2.0 Mini B type

External LED lamp: USB2.0 A, Approx. DC5V, 500mA

Ribbon Stripper: Mini DIN 6pin DC12V, Max. 1A  

Wireless: Bluetooth 4.1 LE

Data storage

Splice mode: 100; Heat mode: 30;

Splice result: 20,000; image 100 images
Standard Package:
Fujikura 88S+ fusion Splicer, Battery pack, AC adapter, AC power cord, USB cable, Fusion splicer srap, Electrodes(spare), Fiber holder set plate, Carrying case, Work tray, Tripod screw, Carrying case strap, Alcohol dispenser, Quick reference guide, Stripper, CT50 Cleaver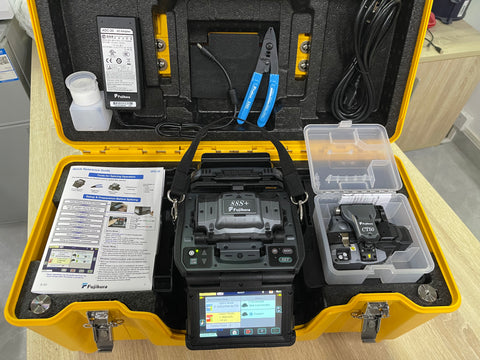 --------------------------------------------------------------------------------------------------
We keep lots in stock, If you need more, please contact us directly! 
Condition:  - Brand New .
Warranty Service :   - 12 months .
Package includes:  - standard package with accessories,  in carton. 
Shipping:We are shipping the goods to every country of the world!
Usually the goods will be sent within 5 working days after payment, the shipping time depends on your country of residence, depending on your country's customs!
if out of delivery times, have not received merchandise, please contact us and we will solve the problem the first time! 
Payment method:  Credit card , Paypal, Wire transfer,  Escrow.
Buyer is under obligation if (in case) the item is liable to your country's customs duties. 
We are not responsible for your country's any taxe or customs fee. 
Our prices do NOT include any customs duty or tax.
All returns must be informed before returning. 
When you receive it, we sincerely hope that you will like it and appreciate our 
customer services. 
If you are pleased with your purchase, please leave us positive feedback once receiving the item, and we will return the feedback upon you.
If you have any problem with the outcome of the transaction or product, please don't respond with negative feedback before contacting us.So we can know what we should do to help you. 
In the meantime, we will get to know where we should improve. we will do our best to resolve your case asap.
Contact us for details before you bid, in case any misunderstanding,  
splicing machine came with 7 days. its packed well and brand new. works good
splicing machine came with 7 days. its packed well and brand new. works good