Fujikura 41S is a V-groove cladding alignment fusion splicer for SMF(G.652/657), MMF(G.651), DSF(G.653), NZDSF(G.655) single optical fibers. Typical splice time: 6-9 seconds, typical tube heating time: 16-24 seconds. Bluetooth® 4.1LE wireless connectivity improves efficiency and reduces maintenance time.
Fujikura 41S is able to estimate the splice loss as accurately as possible. Also, the device is equipped with a touch panel with easy operation, and comes in a multifunctional case with integrated workstation.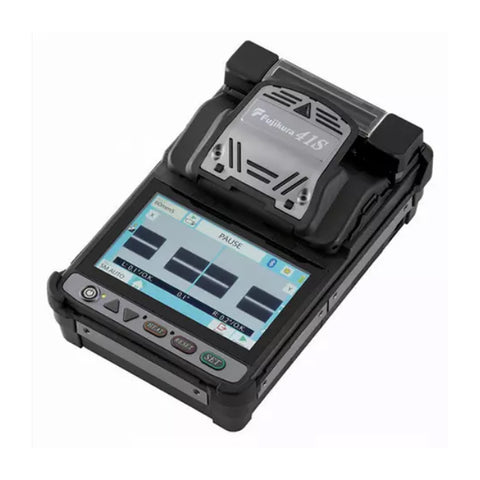 FEATURES
Active V-groove splicer.
Typical splice time: 6-9 seconds.
Typical tube heating time: 16-24 seconds.
Equipped with CT-08 cleaver.
Easy protector positioning.
Bluetooth capability connection.
Core loss estimation function.
Touch panel with easy operation.
Multi-functional carrying case with integrated work station.
TECHNICAL SPECIFICATIONS
Applicable fiber
Single / SMF(G.652/657), MMF(G.651), DSF(G.653), NZDSF(G.655)
Cladding dia. / Sheath dia.
125 μm / up to 3 mm with sheathclamp
Cleave length
5 mm to 16 mm with sheathclamp
Splice mode / heating mode
total 100 splice modes / 30 heating modes
Typical splice loss
0.03 dB (SM), 0.01 dB(MM), 0.05 dB(DS) and 0.05 dB(NZDS)
Return loss
>>60 dB
Typical splice time
6 sec SM FAST, 9 sec SM AUTO
Typical tube heating time
24 sec: FP-03, coating dia. 250μm
25 sec: FP-03, coating dia. 900μm
19 sec: Slim 60 mm, coating dia. 250μm
16 sec: Slim 40 mm, coating dia. 250μm
Splice result storage
Last 10,000 splices
Viewing methods / magnification
2 axis 2CMOS camera with 5.0" color LCD; 132X magnification, 200X magnification after splicing
Tension test
1.96N-2.25N
Applicable protection sleeve
60 mm, 40 mm and Fujikura micro sleeves
Battery life
200 cycles of splicing and heating
Electrode life
5000 splices
Wireless connectivity
Bluetooth ®4.1LE
Dimensions
131 × 201 × 79 mm
Weight
1300 g (with battery)
Operating condition
altitude: 0 to 5,000 m above sea level, wind: 15 m/sec
temperature: -10 to 50°C, humidity: 0 to 95% RH, non-dew
Resistance feature
shock resistance: 76 cm (30 inch) bottom surface drop
dust resistance: exposure to dust (0.1 to 500 μm dia. Alumina Silicate)
rain resistance : H=10 mm/hr for 10 min
Other features
PC software upgrade / data management
Terminals
USB 2.0 (Mini-B Type) connector for PC communication, USB 2.0 (host)


PACKAGE CONTENTS
Fusion Splicer Fujikura 41S (with BTR-11, ELCT2-16B and CLAMP-S31A) — 1 pc.
Cleaver CT-08 — 1 pc.
Set plate SP-31 — 1 set
AC adapter ADC-19A — 1 pc.
AC power cord (ACC-XX, XX=08(JP),09(US),10(UK),11(EU),12(AU)) — 1 pc.
Carrying case CC-36 — 1 pc.
Spare electrodes ELCT2-16B — 1 set
Single fiber stripper SS03 — 1 pc.
Instruction manual M-41 — 1 pc.
Quick reference guide Q-41S-E — 1 pc.
Alcohol pot AP-02 — 1 pc.